We were visiting my mother-in-law in Milwaukee a week or so ago, on Sunday morning we got some coffee and walked to the lakefront where we watched some of the USA Triathlon Age Group Nationals. As we were watching the leaders in the sprint division run to the finish we got a visit from a little friend, pictured here.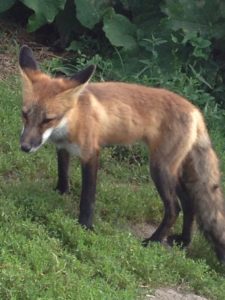 He ran by us, down and then up the hill and stopped about 8-10 feet from us. He hung around for a while; one reason being another couple threw him some pieces of a muffin. He has, obviously, adapted to city life, or at least city-park life, and people.
We can all take a lesson for this fox and realize we have to adapt to changes. Here are a few examples.
As recently as a few years ago I gave prospective clients and referral sources an audio CD of a talk I have on business buy-sell. I then starting sending it by YouSendIt and now I simply have a Dropbox folder with the talk in it, that I invite people to. Using technology I've reduced my (minimal) cost and, more importantly, my labor. FYI, I also keep on my files in Dropbox and have easy and current access from desktop, laptop, iPad and phone. What a time saver, especially when traveling.
A client, Farallon Consulting (an environmental consulting engineering firm), adapted by having one of their people write a regular blog when previously they did no electronic or social media marketing. It's been very popular and has brought in business.
In the buy-sell world every deal now has information shared by Dropbox folders. No hard copies, no emailing files, etc. There's a master folder where buyer, seller and their teams put information. There are private folders for the buyer and seller's team to share amongst themselves, a private folder for the bank, etc. No cost, lower labor, better organization and faster and easier access.
How are you adapting in your business and in your life? It's not something we should necessarily ask ourselves every morning when we get up but when we see how we can adapt to newer technology or processes we need to jump on. Not just for the sake of being current, but if it can save us time, money and/or energy.
"The definition of Ambivalence is watching your mother-in-law drive over a cliff in your new Cadillac." David Mamet (Not that I feel this way about my mother-in-law; the quote just fit.)
Get Started With A Consult